NFSPS Convention Catch Poetry: Stage & Page

                                      Online Registration is closed. You may register to attend when the registration table is open. You may or may not be able to purchase meals. Please plan accordingly.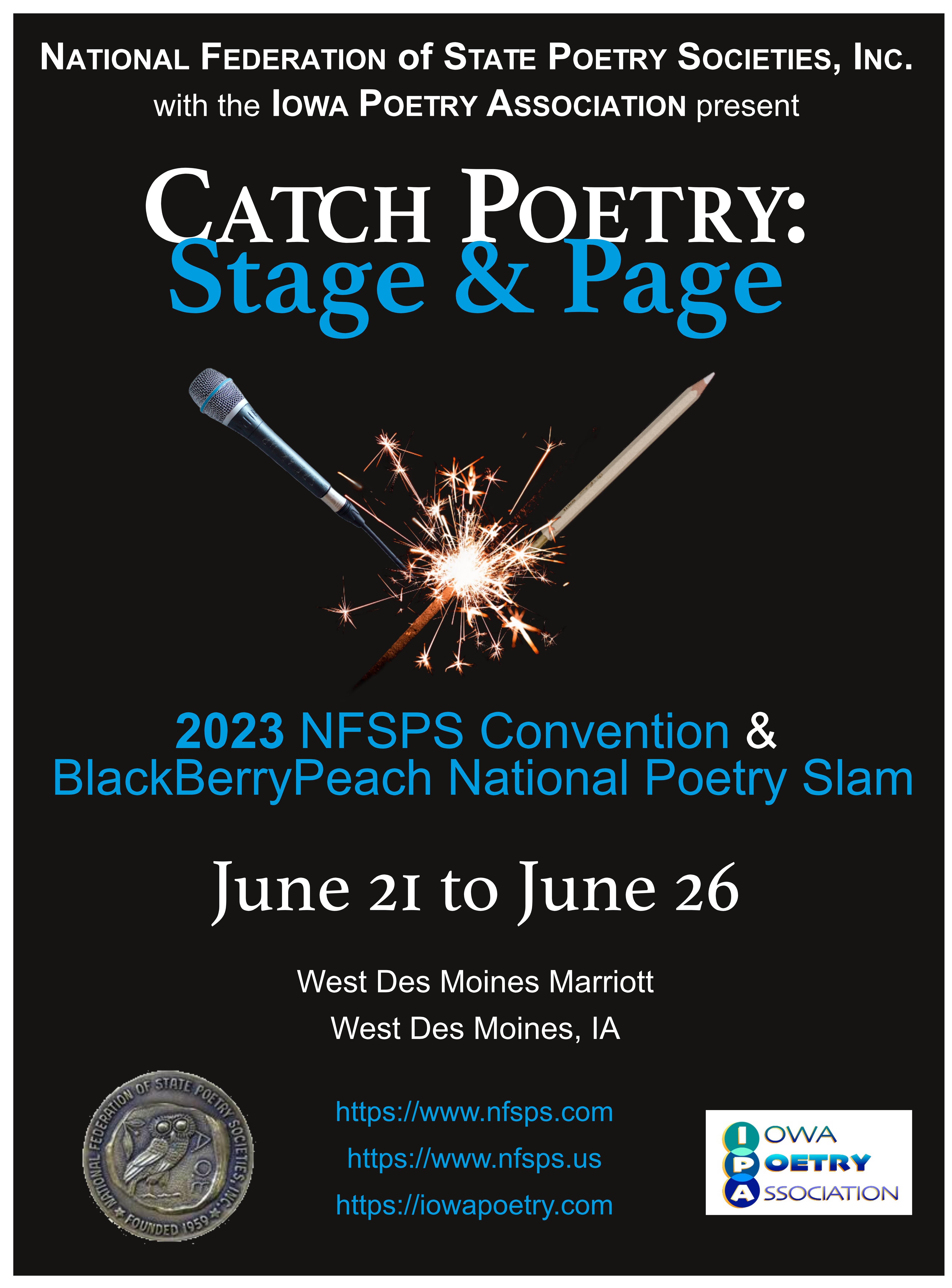 NFSPS Annual Convention Jun 2023
Start Date: June 21, 2023  End Date: June 26, 2023 
Event Reservation IS CLOSED AS OF 11PM MST. 6-19-2023 Even if the links below are still active, your reservation will not be honored.  
There are no upcoming events right now.
NFSPS, Inc 
Catch Poetry: Stage and Page 
June 21 - June 26, 2023 
West Des Moines, Iowa
 Draft Schedule
| | | |
| --- | --- | --- |
| WEDNESDAY,  June 21, 2023 | 12:00pm -4:00 pm   |  Optional Tour Living History Farms Tour  $40.00 includes       admission and shuttle.  Preregistration required. |
|   | 2:00 pm – 5:00 pm | Registration table opens  |
|   | 2:00 pm - 4:00 pm  | Book Room Opens (set up only) /files/1219906/NFSPS Book Room Inventory |
|   | 4:00       | Slam Orientation  |
|   | 4:30 pm  | Dinner on your own |
|   | 6:30 pm – 8:00 pm | Cash Bar  |
|   | 7:00 pm – 11:00 pm | STAGE  Blackberry Peach Poetry Slam  ROUND ONE |
THURSDAY, June 22, 2023
9:30 am – 5:00 pm  
 Registration table opens Rotunda 
 
9:30 am – 12:00 pm  
 Book Room (set up only, no sales) 
 
9:00 am - 12:30 pm         
 NFSPS Inc Board Meeting
 
12:30  pm  
 Lunch on your own    
 
1:00- 4:00 pm  
 Book Room opens for sale of books
 
1:30 – 4:00 pm       

 STAGE & PAGE:  PANEL DISCUSSION 
How to conduct a slam competition  

Kelsey Bigelow   
Ed Mabrey 
Thomas Sayer Ellis

Kevin Campbell Moderating

 
4:00 
 Break 
 
5:00 pm – 8:00 pm    
 Cash Bar
 

5:30 - 6:30 pm  

 

 OPENING Dinner    MEET THE POETS—Pagers & Stagers 
   ICEBREAKER  

Convention Madness Winners 

 
7:00 pm – 11:00 pm   
 STAGE:  Blackberry Peach Poetry Slam  ROUND TWO  
 
10:00 pm 
 Open Mic Poetry Reading 
FRIDAY, JUNE 23, 2023 
7:30 am  -  8:30 am
Open Mic Poetry Reading
 
9:00 a.m. -  5:30 pm
Book Room Open
 
8:30 am  - 10:30 am
NFSPS Inc Contest Awards
 
10:30 am - 10:45 am 
 Break
 
10:45 am  -  11:45 am
PAGE:   Jennifer L. Knox  Strange Times for Rhymes:  Writing Poetry After the Pandemic
 
12:00 pm -  2:15  pm
Luncheon - Poem by Invocation Contest winner
Barbara Stevens Manuscript Award
 
1:00 pm -  1:15 pm
 Break 
 
1:15 pm -  2:15 pm   
NFSPS Inc Contest Awards  
 
2:15 pm -  2:45 pm 
Break 
 
2:45 pm - 5:00 pm

PAGE & STAGE:  IOWA SHOWCASE  
Co-Emcees Bill Rudolph and Dawn Terpstra

Panel members 
Lola Nakashima-Brooke, Iowa Student Poet Ambassador 
Jennifer L. Knox (Page poet)
Ralph Savarese  (Page poet)
DJ Savarese  (Page poet) 
Paul Brooke (Page poet) 
Linda Brown (Stage and Page poet) 
Hannah/Charlie Hall (Stage poet) 
Ray Young Bear & 3 Meskwaki dancers (Stage and Page poet) 

 
5:00 pm -  5:45 pm
  Autograph signing at book room for Speakers 
 
5:30 pm – 8:00 pm
  Cash Bar 
 
6:30 pm - 8:30 pm
 Dinner - Poem by Invocation Contest winner 
 
7:30 pm - 8:30 pm
 1st Keynote SPEAKER (Iowa )  VINCE GOTERA
 
8:30 pm  -  8:45 pm
Break   
 
8:45 pm - 10:00 pm
Open Mic Poetry Reading 
 
9:30 pm - 11:30 pm                     

TBA—Surprise event     
SATURDAY, JUNE 24, 2023 
7:30 am  -  8:30 am  
Open Mic poetry reading 
 
9:00 am -  5:30 pm  
Book Room Open 
 
8:30 am -  5:00 pm 
Registration Open 
 
8:30 am -  9:30 am 
State President's meeting  
 
9:30 am -  9:45 am 
Break 
 
9:45 am  -  12:00 pm   
Plenary Session  (elections, reports, delegate votes) 
 
12:15 pm - 12:45 pm 
Luncheon  - Poem by Invocation Contest winner 
Lola Nakashima-Brooke, Iowa Student Poet Ambassador
Manningham Winners   
 
12:45 pm  -  1:00 pm 
Break 
 
1:00 pm  -   3:00 pm 
STAGE & PAGE:  DRAMATIC PRESENTATION OF YOUR POETRY  WORKSHOP 
Performing your poetry on the stage can feel overwhelming at times.
 Join Caleb "The Negro Artist" Rainey, a renowned Iowa poet, in this stage workshop. He will guide you through not just reading, but performing your poetry on the stage in a way that eases your nerves, captivates audiences, and portrays the feeling you've put into your poem.
 
3:00 pm  – 5:00 pm 
NFSPS Inc Contest Awards 
 
5:30 pm –  8:00 pm   
Cash Bar
 
5:30 pm - 7:00 pm  
Dinner -  Poem by invocation contest winner  
CUP winners 
 
7:00 pm – 11:00 pm  
STAGE:  Blackberry Peach Poetry Slam  
ROUND THREE:   FINALS 
 
10:00? pm 
Open Mic Poetry Reading 
SUNDAY, JUNE 25, 2023 
8:00 am -  9:00 a.m. 
Open Mic Poetry Reading 
 
9:30 am -  2:15 pm   
BOOK ROOM OPEN  
 
9:30 am - 11:45 am  
PAGE & STAGE: PANEL DISCUSSION
 
12:00 pm -  2:00 pm  
Luncheon - Poem by Invocation Contest winner 
Blackberry Peach Performance Poetry Winners 
 
2:00 pm- 2:15 pm 
Break 
 
2:15 pm - 4:00 pm   

Thomas Sayers Ellis WORKSHOP and Performance
"Stereo Fight Tree Yo"

Thomas Sayers Ellis, words

Luke Stewart, bass

Andrew Latona, guitar

 
4:00 pm - 4:30 pm 
Autograph signing for Thomas Sayers Ellis
 
4:00 to 5:00         
Book Room-pick up all books (no sales)  
 
6:00 pm – 8:00 pm  
Cash Bar 
 
6:00 pm - 8:30 pm 
Dinner - Poem by Invocation Contest winner 
 
7:30 pm - 8:30 pm 
Thomas Sayers Ellis 
KEYNOTE SPEAKER ADDRESS   
 
8:30 pm -  8:45 pm  
Break 
 
8:45 pm to finish
 NFSPS Inc Contest Awards  
 
10:00? pm 
Open Mic Poetry Reading 
| | | |
| --- | --- | --- |
|  MONDAY, JUNE 26, 2023  | 9:00 am -  noon   | Optional Tour World Food Prize Tour  $30.00 includes shuttle. Preregistration required.  |